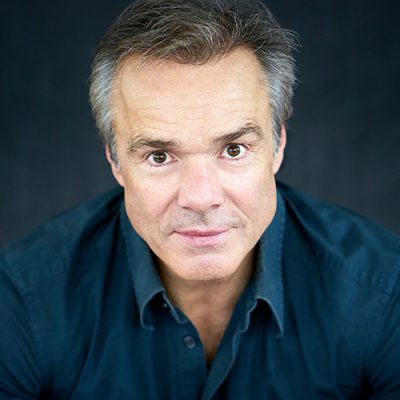 Hannes Jaenicke
GREEN BRANDS Germany Personality 2017
Actor, committed Environmentalist and Documentary Filmmaker
He is one of the most sought-after German actors, committed environmentalist and controversial lateral thinker – Hannes Jaenicke has many facets. As a documentary filmmaker and activist, he fights against the extinction of endangered species and for a rethinking of climate protection.
In his books Jaenicke does not mince his words either. He writes about socially relevant topics that concern him and thus triggers debates. With "Anger alone is not enough" and "The Big Public Joke" he was on the SPIEGEL bestseller list for weeks. In his current work "Wer der Herde folgen, sieht nur Ärsche – Warum wir dringend Helden brauchen" he personally and humorously tells of his own role models and calls for a critical examination of his own "lead animals". He urges us to look, to think and think ahead, to ask questions and not to accept the circumstances passively and inactively.
Hannes Jaenicke has followed this credo for years. He interferes, puts his finger in the wound. In cooperation with ZDF, he has been shooting documentaries about the threatened life of endangered species since 2008. In the documentary series "Hannes Jaenicke: In Action" he reported, among other things, about the orangutans on Borneo, the endangered lions in the African savannah or about elephants and the bloody war for their tusks, which costs the lives of 40,000 pachyderms every year.
His documentary series has received numerous awards. In 2009, it received the award for "Best Film" at the "Los Angeles Reel Film Festival" and the Special Jury Prize at the International Nature Film Festival, among others. Jaenicke also won the German Entertainment Award 2010 and the Naturelife Environmental Award 2011 for the documentary series.
But his real profession is acting. He has appeared in over 70 cinema and television films, acted in more than 30 television series in main or episode roles and plays theater.
Born in Frankfurt am Main in 1960, Hannes Jaenicke lived in the USA for several years from the age of six. His father, a biochemist, had a research assignment at the university in Pittsburgh, Pennsylvania. The family returned to Germany in 1969. In Regensburg, Jaenicke, who also has US citizenship, went to grammar school, which he completed with the Abitur.
Afterwards Hannes Jaenicke moved to Vienna. He completed his training at the Max Reinhardt Seminar and at the Vienna Opera School as well as at the London School of Modern Dance. Until 1989, leading stage roles took him to the Burgtheater and Volkstheater in Vienna, the Schauspiel Bonn, Peter Zadek at the Freie Volksbühne Berlin, the Schauspiel Köln and the Salzburg Festival.
Jaenicke had his breakthrough in 1984 with Carl Schenkel's oppressive elevator thriller "Abwärts". After that, the young actor's career took a steep climb, not only in Germany but also internationally. "Fathers and Sons" followed in 1985 with Burt Lancaster and Julie Christie and in 1986 the film biography "Rosa Luxemburg" directed by Margarethe von Trotta.
Since 1986 Jaenicke has worked regularly with Dominik Graf, including in 1994 in one of the leading roles in his cinema thriller "Die Sieger" and in 1995 as Tsar Peter III in "Katharina the Great" with Catherine Zeta Jones, Jeanne Moreau and Omar Sharif. He also appeared in Thomas Jahn's and Til Schweiger's cinema success "Knockin' on Heaven's Door" in 1997 and in the same year took on the title role in the crime series "Sardsch" directed by Axel de Roche, for which he was awarded the Adolf Grimme Prize in 1998.
This was followed by numerous television films such as "Hanna wo bist Du?", "Die Schönste von Bitterfeld", the Tatort "Die Liebe der Schlachter", the Stasi drama "Der Stich des Skorpion" with Martina Gedeck and a guest role in three "Tatort" productions alongside Maria Furtwängler. In the RTL series "Post Mortem" Hannes Jaenicke played the leading role as a forensic doctor for two seasons from 2006 to 2008.
After the successful broadcast of the comedy "Allein unter Töchtern" (Alone Among Daughters) in 2008, a sequel has been shot every year since 2009, in which Jaenicke can be experienced as an ex-federal army instructor and overstrained single father of three daughters. This was followed by the cinema production "Armistice" directed by Lancelot von Naso, which won numerous prizes at the film festivals of Montreal, Zurich and Hof in 2009. Jaenicke also took part in numerous American TV and cinema films. He appeared in the CBS series "Due South" with Carrie Ann Moss, in "The Raven" with Roy Scheider and in the series "The Highlander".
Jaenicke performed as vaudeville artist 'Gilles Broca' in the English language Teamworx film adaptation "Hindenburg" about the drama of the world famous Zeppelin in 2011. The film won the German Television Award and was nominated for the Bambi.
Jaenicke also appeared in Thomas Bohn's highly successful "Tatort – Das schwarze Haus", in which he plays a detective writer whose novel is the basis for several murders. The busy actor also took part in the film adaption of Ken Follet's bestseller "World Without End" ("Die Tore zur Welt").
Again and again Hannes Jaenicke is also active as a screenwriter. For example, he wrote the book for the drama "Against the Storm" from 2014, which focuses on the catastrophe mission of an aid organisation after a tsunami. He also wrote the family film "Bodycheck – Mit Herz durch die Wand", which Sat.1 broadcast in March 2017.
Jaenicke lives alternately at Lake Ammersee and in California. He loves the water. Sailing, windsurfing, paddling – an absolute must for a person born under the sign of Pisces. Hannes Jaenicke lives as he demands from others: the vegetarian pays attention to sustainability and environmental protection in his lifestyle. He doesn't have energy guzzlers like a tumble dryer, he drives an electric car and does almost completely without plastic.
Hannes Jaenicke deliberately keeps his private life out of the public eye. It is much more important for him to use his popularity for socially relevant issues. Thus, in addition to acting and his fight for environmental protection, he is involved in numerous charitable organizations.
He is an ambassador for the Christoffel Blindenmission, supports Fans For Nature, the Aktionsgemeinschaft Artenschutz and Greenpeace and is active for the Tibetan human rights organisation International Campaign for Tibet. Jaenicke has already had the honour of meeting the Dalai Lama, the head of the Tibetans, three times. Deeply impressed by the Dalai Lama's wisdom, Jaenicke read his "Advice of the Heart" as an audio book speaker.
His latest project: Jaenicke is shooting the documentary series "Guardians of Heritage" for the Pay-TV channel HISTORY. The documentary, which will be broadcast in three parts starting in November 2017, is intended to highlight the importance of our cultural heritage. The filming took Hannes Jaenicke to a refugee camp in Jordan and other locations in Israel, Canada, Bosnia and the USA.
Hannes Jaenicke is committed to the careful use of resources and gives threatened species a voice. Impressively and fearlessly, he holds up a mirror to industry, politics and the media and points out grievances in our society. For his dedicated fight and his tireless commitment to environmental and animal protection Hannes Jaenicke is awarded the title "GREEN BRAND Germany Personality 2017".
(Image rights © Jürgen Bauer, Marco Justus Schöler)