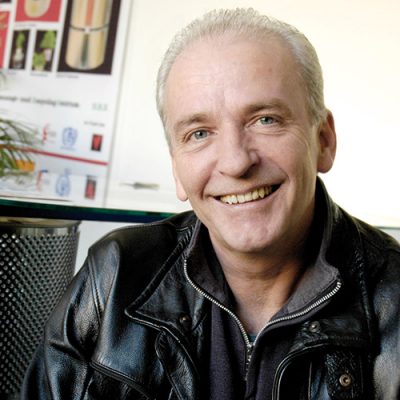 Sepp Eisenriegler
GREEN BRANDS Austria Personality 2014
Socioeconomist, Environmental Consultant and pioneer of the Austrian Obsolescence Debate
Repairing instead of throwing away. Under this motto, over the last 20 years, he has not only made citizens think about repairing their broken electrical appliances.
It has also given more than 400 people a new chance on the job market: Long-term unemployed and disabled people who have found a job again in his Viennese "Repair and Service Centre", in short R.U.S.Z.
Socio-economist, environmental consultant and philanthropist: Sepp Eisenriegler is someone who cares about the earth, its limited resources and people. One who interferes.
A social and environmental entrepreneur who dares to speak out even uncomfortable truths in public. And then immediately takes the initiative to fight against it.
As a pioneer of the Austrian obsolescence debate, he fights to avoid electronic waste and prefers to reach for a wrench himself to repair aging broken appliances instead of throwing them away.
Obsolescence manifests itself in many different ways, says Eisenriegler. Technical obsolescence is due to the use of cheap materials. Planned obsolescence leads through predetermined breaking points or counters to devices breaking down after a certain time. Printers, for example, demand new toner even though it is not yet necessary.
And the latest phenomenon: psychological obsolescence, which is particularly evident in the entertainment industry. A new mobile phone every year – the old one is then superfluous, obsolete.
This trick of the industry causes economic damage of 13 billion euros in Austria alone. Not to mention the damage it causes to the environment.
Our consumption of resources has almost doubled in the last thirty years. The amount of electronic waste in the EU has even increased fourfold. Austria is at the forefront in the generation of electrical waste: each Austrian produces 25 kilograms of it annually. Eisenriegler literally puts a stop to this development: in his repair centre in Vienna, discarded electrical appliances are brought back to life. Over the past almost twenty years, he has been able to avoid more than 15,000 tons of waste and vast quantities of greenhouse gases.
More than 25 years ago, Eisenriegler was instrumental in the founding of Umweltberatung Vienna. But even though he talked a lot about waste prevention at that time, he was not able to achieve much. That is why he founded the "Repair and Service Centre" in Vienna-Penzing in 1998.
For the first ten years, the R.U.S.Z: was a socially integrative company. As a subsidized company for the reintegration of long-term unemployed and disabled people, he trained them to become repair and recycling technicians who made defective electrical appliances usable again. More than 300 of them were placed in permanent jobs.
After the not entirely voluntary privatisation, the mechatronics specialist company R.U.S.Z. GmbH now employs 20 people who have made their way from long-term unemployment to sought-after top technicians. They repair electrical and electronic appliances of all brands, develop methods to increase the energy efficiency of old washing machines and help technically interested people to repair their own appliances in the repair café. More than 8,000 customers make use of the repair service every year – and the number is growing daily.
Incidentally, Eisenriegler's commitment has triggered a nationwide media hype. More than 250 newspaper articles and TV shows have been published so far thanks to his commitment. After his first flaming article in the high-circulation environmental magazine "LebensArt", the obsolence debate has made its way into the mainstream and inspired many people to think and imitate it.
GREEN BRAND Austria Personality 2014 Planned obsolescence is only the tip of the iceberg in Eisenriegler's view. The social economist sees the great challenge rather in helping to adapt our economic system, which is geared towards maximizing profits. Increasingly short-lived products are coming onto the market, and their manufacture is wasting vast amounts of resources.
Status symbols give many citizens the feeling that they belong. They forget that the scarcity of raw materials is increasing and that we are acting without regard for future generations. "The seventh continent in the Pacific Ocean, consisting of plastic waste, is as indispensible as climate change caused by the behaviour of mankind," says Eisenriegler.
Eisenriegler has launched numerous other projects to promote awareness of the need to conserve resources. More than 60 companies are now involved in the "ReparaturNetzWerk" in Vienna. Socially integrative companies from all over the country have joined forces to set up repair and re-use networks in other Austrian cities, following the example of the R.U.S.Z.
This is how the nationwide "RepaNet" was created. But that's not all: Sepp Eisenriegler is also active at European level. As a founding member and president of the European umbrella organisation of social economy enterprises, RREUSE for short, he is a major driving force behind the reuse and recycling movement at international level.
Thus, at EU level, repair and reuse have been established as important measures for waste prevention. EU member states are also called upon to promote repair networks in their countries.
Eisenriegler also supports the idea of "Repair Cafés", which are now operated throughout Europe and even globally. Sepp Eisenriegler does not mince his words. He explains openly and in a way that everyone can understand, why and how we have to conserve resources: "Surely it cannot be that international consortia exploit raw materials in the countries of the South, which are then processed in emerging countries under inhumane conditions into products that we buy cheaply in the North and throw away after short cycles of use," says Eisenriegler. "Some waste then ends up where the raw materials come from and, in the case of electronic waste in Ghana, endangers the health of the population living there.
Whereas in 1998 a washing machine was still in operation for an average of 12 years, today it is no more than six years. Eisenriegler's tip: It is better to invest in more expensive and therefore more solid products, because "for every 100 euros a washing machine works for one year". Use longer instead of buying more often.
Repairing instead of scrapping. Even at 60, Eisenriegler still doesn't think about quitting. Instead, new ideas are constantly being developed to effectively counteract the waste of resources. "Measures to increase energy efficiency are often misused as sales arguments," warns Eisenriegler. "Who knows that more than half of the negative environmental impacts in the life of a washing machine have already happened before it is first put into operation". Resource efficiency is therefore the big screw that needs to be turned, he believes.
With the washing machine tuning, he has created a range of products in his R.U.S.Z. that makes good old machines fit again and technically upgrades them so that they use less electricity and water at the same time. With this, Eisenriegler proves that energy and resource efficiency need not be a contradiction in terms. "It is ethically unacceptable that we in the so-called developed countries give in to our consumer mania at the expense of Sepp Eisenriegler's next generations and at the same time move further and further away from a good life". The social entrepreneur has already received many awards for his commitment. He is the winner of the Energy Global Austria Award, the Austrian Climate Protection Award, the Environmental Award of the City of Vienna, the Innovation Award "Ideas against Poverty" and the Golden Order of Merit of the State of Vienna.
Now another award has been added: For his tireless efforts against the waste of resources Sepp Eisenriegler has been named "GREEN BRAND Austria Personality 2014".