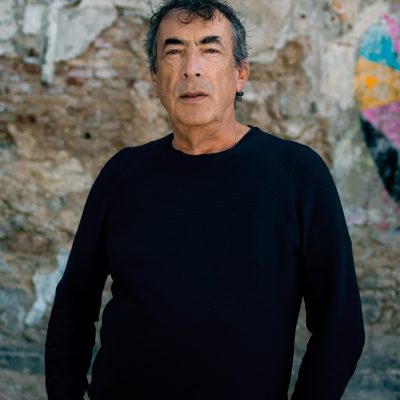 Hubert von Goisern
GREEN BRANDS Austria Personality 2020
Musician
He has been touring the stages of the world for more than 30 years and delights his audience with his unique music: Hubert von Goisern. As musical ambassador of Austria, as an innovator of folk music, a modernizer, as an individualist – and increasingly involved as an alarmist for environmental conservation and humanity.
With his very own mixture of rock, jazz, blues, yodelling, Styrian Accordion, diverse wind and string instruments and traditional folk music he has created his own genre. Alpine rock, Alpine Grunge, world music, folk rock – Hubert von Goisern do not fit into a single category. He Rather challenges his audience.
Sometimes rough, dark and rocking, sometimes slow, quiet, even romantic, then again with stomping beats and hard guitar riffs – the artist always surprises his listeners over and over again with his virtuoso works. His music is influenced by what he has experienced as a traveller, as a curious person about the world, as a musician.
Hubert Achleitner, as von Goisern is actually called, was born in 1952. At the age of five he told his parents that he wanted to be a music conductor. At the age of 12 he joined the local brass band. There he received his first instrument on loan – a trumpet – and free lessons.
However, the membership in the band was only for a short period of time. The then long-haired troublemaker lamented the redundant repertoire and the lack of modernity. The banishment followed.
Not having the loaned trumpet, the young musician reached for the guitar and taught himself to play it. He was inspired by artists like Jimmy Hendrix, John McLaughlin or Miles Davis. Soon he founded his first band and began to compose himself. The foundation for his later career as a songwriter was laid.
But Austria was too confining for him from an early age. After he received a globe as a present at the age of twelve, Hubert von Goisern imagined what it would probably smell like here and there. The vast world, and the other things about the world fascinated him. And so he left in his early twenties.
Hubert von Goisern emigrated to South Africa, where he worked for four years as a chemical laboratory assistant. He then moved to Canada, where he stayed for three years and studied flamenco guitar in Toronto. On his journey back to home in Austria, the Globetrotter spent six months with bounty hunters in the Philippines, learning their songs and playing the local nose flute.
After his return, von Goisern studied electroacoustics and experimental music at the University of Music Vienna. He rediscovered the accordion, which he had received as a gift from his grandfather many years earlier. For him it was the epitome of the eternal yesterday. But von Goisern developed a new way of playing and thus created a new foundation for his unique style.
In 1986 he met the musician Wolfgang Staribacher, together with whom he performed as the Alpinkatzen. During a street music performance in the centre of Vienna, he was approached by a manager from the record company CBS, who offered him a contract on the spot. In 1988, the Alpinkatzen released their first record "Alpine Lawine".
Three years later the duo split up and von Goisern found new musicians for his band in Upper Austria. In 1992 the Alpinkatzen released the album "Aufgeigen stått niederschiassen". From then the Band became hit and climbed up the mountain of music : hit parades, several albums, tours throughout Europe and as far as the USA. Von Goisern was awarded multiple times with the Amadeus Austrian Music Award, the most important Austrian music prize. In the course of his career he went on many tours with over 1,000 concerts. He has played in the Egyptian city of Assiut to on the Cape Verde Islands at grand Open Airs.
In 2007 and 2008 Hubert von Goisern toured eleven countries on his legendary Linz Europe Tour on a ship converted into a concert stage. He sailed across several rivers across Europe to the Black Sea and the North Sea and played a total of 57 concerts.
His stage name, described by himself, was a late act of revenge on the petty-, narrow-mindedness of his homeland, the Upper Austrian spa town of Bad Goisern in the Salzkammergut. The children of the town were always taught to be quiet so as not to disturb the spa guests. Nor did the local fathers like the new interpretation of folk music. Critics of his worldwide success have since fallen silent.
Hubert von Goisern has never done what was expected from him but yet he was consistently successful. Since his beginnings as an alpine rocker with "Hiatamadl" to the groundbreaking success in 2011 with " Brenna tuats guat". This single was at the topped the Austrian single charts for five weeks and was awarded platinum. In 2013, the musician received the honorary Amadeus for genre- and music that unifies people.
Yet von Goisern also tried his hand in other genres. He designed fashion, made his acting debut alongside Martina Gedeck in the TV film "Hölleisengretl" and composed the soundtrack for Joseph Vilsmaier's feature film "Schlafes Bruder".
He is a discoverer, a curious person, a world enlightener, in a constant search for a unifying element in the unknown. The musician travelled through Tibet, met the Dalai Lama. The result: His album "Inexil" together with artists from the Tibetan Institute of Performing Arts. He travelled to East Africa in 1997 by invitation of chimpanzee researcher Jane Goodall and one year later produced the documentary "Von Goisern to Gombe". He wrote the soundtrack to the film himself.
In the documentary "Gegen die Stille" (Against Silence) he follows the traces of the folk culture of Greenland. For the exhibition "Alpenliebe" on the Großglockner he created an interactive musical journey through the Alps. In 2015 Marcus H. Rosenmüller's "Brenna tuat's schon lang" was released in the cinemas, a documentary about Hubert von Goisern's life and work, his journeys, his rebellion, his saying-no. A year later the film was awarded the Austrian film and television prize Romy as Best Feature Film Documentary.
Hubert von Goisern is also successful as a Writer. His first novel was published in May 2020. "Flüchtig" tells the story of a failed marriage. After 30 years living together, the wife breaks out and rushes on a journey to the global south with an uncertain outcome. "An elegant story in clear words, a clever pageturner", is how "Der Standard" judges the musician's first novel.
Like his music, his book also touches on current topics that concern him. The Nazi era or the current right-wing extremists worldwide move him just as much as a lack of social justice or increasing globalisation at the expense of regional and local providers does.
Since 2015, the father of two has been committed to the Green Party and supports the Green Party in their election campaign. "I support the Green Party because they represent my values and because this colour is needed in our political landscape, now more than ever before," von Goisern explains his commitment.
Regionality plays a major role not only in his music. He advocates to support regional and local economies – this protects the environment by reducing long distances and emissions and allows small regional producers to compete well with large, cheaper suppliers.
He stirs up a hornet's nest and this exactly is the secret behind Hubert von Goisern's success. With "Brenna tuats guat" he not only made it to the top of the Austrian charts in 2011, but also created the anthem for a critically questioning audience that cares about the environment and their fellow human beings. His current single "A Tag wie heut" also has a powerful message: No matter the colour of skin, religious belief or political opinion – in the end we are all equal. The song is part of his first studio album after several years of stage absence. With "Zeiten & Zeichen", von Goisern is making a powerful and critical comeback in 2020.
Politically ever active and up-to-date, even at the age of 67 Hubert von Goisern always has his finger on the pulse of time. He shakes-up the people to awake them, criticises without being judgmental. This is how he stimulates reflection of thoughts and action.
For his commitment to environmental conservation and a better and more peaceful world, Hubert von Goisern is awarded the "GREEN BRAND Austria Personality 2020".
Picture Credits  © Stefan Wascher, Helmut Berg, Jürgen Skarwan