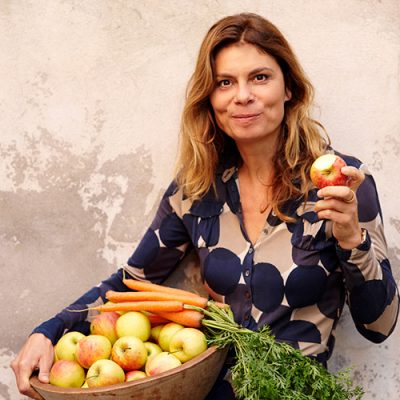 Sarah Wiener
GREEN BRANDS Germany Personality 2015
Celebrity Chef, a bestselling Author, Entrepreneur and committed Environmentalist
Information about the work of Sarah Wiener can be found at https://sw-stiftung.de/
"Cooking transports love in a very relaxed way," says Sarah Wiener. And this spark of love leaps across: The likeable Berliner by choice is one of the most successful and popular cooks in Germany.
She shows how sustainability can be implemented in everyday life simply and with a lot of enjoyment. She creates delicious dishes from seasonal ingredients from the region – on TV, in her restaurants and for her catering service.
But Sarah Wiener can do more than just cook. She is a bestselling Author, Entrepreneur and committed Environmentalist. Under the umbrella of Sarah Wiener GmbH, she runs a successful catering company that has set itself the goal of becoming the most sustainable catering company in Germany. Her restaurant in Hamburger Bahnhof is certified organic, as is her wood-fired oven bakery in Berlin. She also runs an organic farm in the Uckermark. The lively all-rounder employs almost one hundred people in total.
The remarkable thing about it: Sarah Wiener is self-taught. She, who has neither a school-leaving certificate nor vocational training, turned her passion for cooking into a profession. Born in Halle (Westphalia), Sarah Wiener grew up with her mother, the visual artist Lore Heuermann in Vienna. At the age of 17 she left Vienna, hitchhiked through Europe and made a living with odd jobs.
At the end of the 70s she moves to Berlin. In the pub of her father, the cultural philosopher and jazz musician Oswald Wiener, the Globetrotter comes to the boil by chance.
She is tight of cash and helps in the tiny kitchen of the "exile" to clean vegetables and wash salad. "It was one of the first jobs I really liked," Sarah Wiener says later.
And it became the springboard for her unique career. At 28, she borrowed 10,000 marks from the bank and founded her first own company. From then on, Sarah Wiener Tracking Catering catered for film crews all over Europe and became one of the most successful film caterers in the country. With a discarded W50 kitchen van of the National People's Army, the talented cook brings her healthy and lovingly home-made food directly to the film sets.
Sarah Wiener quickly serves her fresh and delicious menus at weddings, vernissages, receptions and fashion shows. Her catering business flourished and in 1999 she opened her first own restaurant in Berlin, the "Speisezimmer". Organic certified, of course, because Sarah Wiener lives her philosophy in everything she does: conscious and healthy food, sustainably produced and home-made.
The "cook for sustainable enjoyment" inspires with her culinary creations and is soon to be discovered by television herself. In 2004, she first became known to a wide audience as Mamsell in the documentary "Abenteuer 1900 – Leben im Gutshaus". This is followed by appearances on talk shows and cooking shows.
Since 2007 she has been travelling regularly for Arte. Whether Great Britain, Austria, France or Asia – her culinary adventures take her around the world. She looks into the pots of top chefs and, helps winegrowers and farmers with their work and discovers the secrets of regional cuisines. Wiener presents her audience with authentic dishes, fresh produce and lots of exciting kitchen stories, always garnished with a pinch of humour and charm.
In the meantime, it has long since become a brand in its own right. Under the label Sarah Wiener she sells books and DVDs in addition to products from her own organic food line with delicacies such as muses and jams without artificial additives.
Children are especially dear to the mother of a son. Since 2007 she has been the initiator, founder and front woman of the Sarah Wiener Foundation "For healthy children and something sensible to eat". In cookery courses at more than 650 primary schools and day care centres throughout Germany, children learn according to the Sarah Wiener concept how good freshly prepared food tastes and how they can prepare delicious meals themselves. In addition, the foundation enables children to visit farms to experience at first hand where the food comes from and how it is grown.
When Sarah Wiener looks back on her own childhood, this is one of her most beautiful memories: harvesting fresh fruit, radishes or herbs in the country in summer. Through her work, her foundation enables several thousand children each year to experience exactly this: the joy of cooking with fresh regional ingredients. For this is where the future lies for the star chef – to show children that good things can be so easy.
Sarah Wiener also conveys this message in her cookbooks. The industrious author has already written just under a dozen kitchen guides. Whether vegetarian dishes, Austrian cuisine, French savoir vivre or as "La Dolce Wiener" about the sweet temptations from apple strudel to cinnamon rolls – Sarah Wiener's passion for cooking and baking is evident in every recipe.
To go back to the origin of food, Sarah Wiener has fulfilled another dream. She went among the farmers. At the Uckermärkisches Gut Kerkow she wants to close the cycle from the healthy field to the food on the plate together with business partners. 600 cattle, dairy and meat cows live on 720 hectares of land.
Angler saddle pigs, a dying breed, and Angus cattle are also at home on Gut Kerkow. In the own butcher's shop, restaurant and farm shop is processed and sold. She personally takes care of the bees on the farm. The young beekeeper loves to work with her bees and to produce honey from natural beekeeping. Her credo: use as much as possible and throw nothing away. Sustainability begins on a small scale. For Sarah Wiener this means creating something beautiful with her own hands and creating her personal lifestyle close to nature.
It stands to reason that working with wool is also one of her passions. Therefore, in addition to her cookery books, she has added another work: she has compiled her favourite knitting models in her book "Wohlfühlmaschen". Her own organic food brand is also completely committed to sustainability. Sarah Wiener sells fruit puree and pastes, coffee, tea and spices – all organically grown – under her own name. Transparency from the field to the packaging is a top priority. This is why the TV cook's hearty muse has just been declared "Organic Brand of the Year 2015". This is just one of many awards that Sarah Wiener can be happy about.
In 2012 the environmentalist received the German Fairness Award. In 2013, her foundation was honoured with the international B.A.U.M. special prize for its achievements in the field of sustainability. Sarah Wiener was also knighted: in 2013, the French ambassador awarded her the insignia of a knight in the National Order of Merit. Sarah Wiener is UN Ambassador for the Year of Soil 2015 and has been godmother of the campaign "Save our Soils" since 2013.
What drives her, this versatile, energetic, award-winning woman? The desire for new things, her passion and enthusiasm, her optimism and spontaneity.
She follows her heart and her emotions. "With me everything is possible", says Sarah Wiener of herself. For her untiring commitment to sustainable living and her struggle for organically grown fresh food instead of fast food, Sarah Wiener is awarded the title GREEN BRAND Germany Personality 2015.
(Image rights © Christian Kaufmann, Zero one)